Service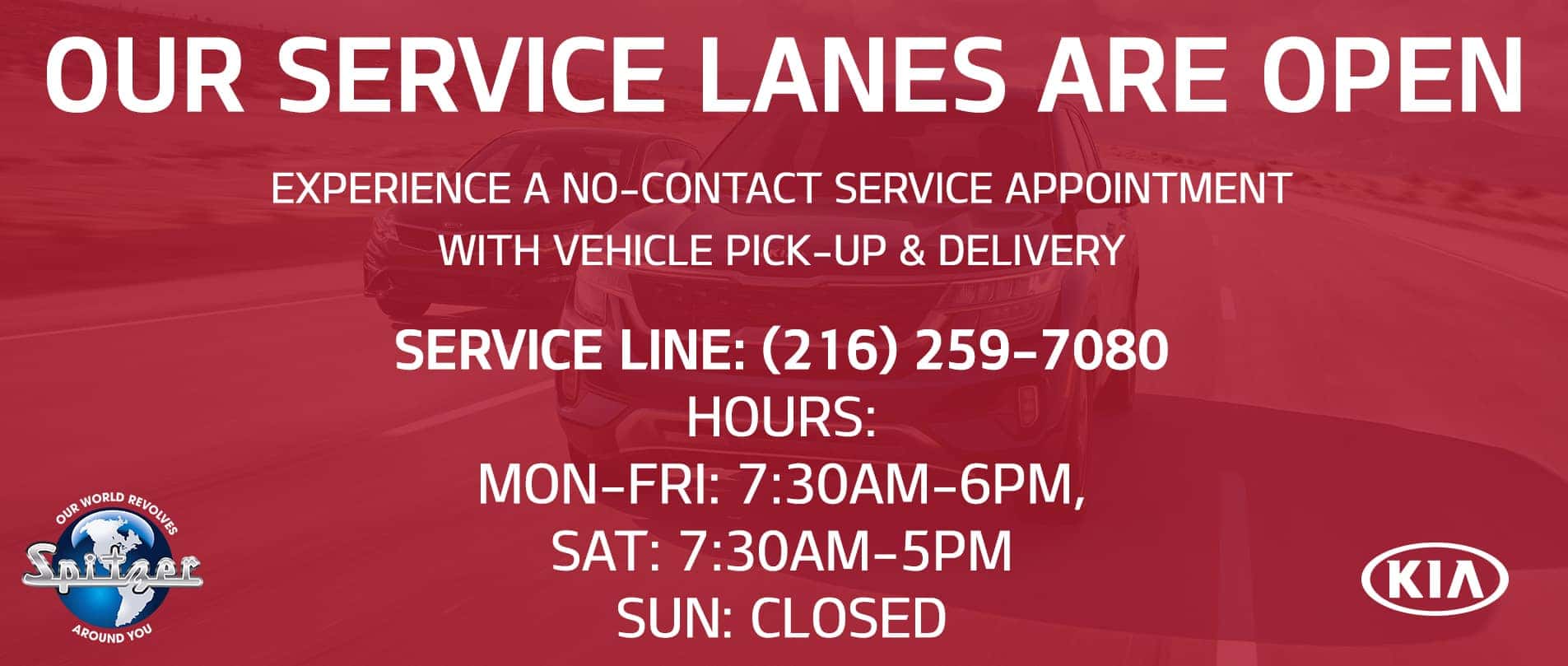 Welcome to our
Spitzer Kia Cleveland Service & Auto Repair Center In Ohio
Professional Kia Service Done The Right Way
Welcome to your premiere Kia Service Center at our Cleveland car dealership. If you are looking for auto repair or professional Kia service, Spitzer Kia Cleveland is the place you'll want to be. Our goal is to ensure you can get back on the road behind the wheel of a vehicle that is safe for you and your family. We only use quality Kia OEM parts for you Kia vehicle. Whether you're looking for routine maintenance service and repair, oil change service, tire service, brake service and more, our Kia Service Center has you covered!
Make The Visit to Cleveland, OH To Service Your Kia Today
At Spitzer Kia Cleveland, we want to invite our neighbors from Parma, Strongsville, Ohio and beyond to an incredible Kia service center you won't want to miss. We guarantee the drive will be worth it as we are passionate about our auto repair shop.
---
Why You Should Choose Our Auto Repair Service in Cleveland
When you make the drive from Parma or Strongsville to Spitzer Kia Cleveland, you will find a state-of-the-art service center run by Kia-trained professionals. We pride ourselves on professionalism and the knowledge we share with our customers so you know you are getting the best auto repair service for your money. With every visit, we guarantee you will not forget the exceptional customer service you received. Bring your Kia vehicle to our Kia Service Center today, and our technicians will have you back out on the road in no time!
Still not convinced? Our Kia Service Center offers a variety of convenient luxuries for you to enjoy:
Guest lounge with free Wi-Fi, coffee and snacks
Courtesy shuttle service, loaners and rentals available
Online service scheduling 24/7
Express service
Monthly service specials
Make your service appointment today!
Kia Oil Change Service in Cleveland, OH
Looking for somewhere to take your vehicle for an oil change? At our Cleveland car dealership, we offer quick and easy oil changes to keep your vehicle running in the best possible condition. Getting the oil changed on time is crucial to the performance of your car, truck or SUV, and we want to be there for you when you are ready.
---
Certified Pre-Owned Kia Service
Ensure your Kia continues to run like-new by bringing your vehicle in for a check-up. Even with high mileage, your new, used or Certified Pre-Owned Kia will always perform at its best with our certified Kia maintenance.
---
Get Better Stopping Power With New Kia Brakes
If your brakes grind, squeal or don't feel like they used to, it may be time to get them checked or replaced. At Spitzer Kia Cleveland, we can check your brakes for you to ensure they are working correctly, and if they aren't, we are happy to replace them.
Replace Your Kia Battery in Cleveland, OH
A strong battery is a key component of your high performing Kia vehicle. If you need your battery replaced, our Kia Service Center will replace your current battery and safely remove and recycle your old one.
---
Kia Tire Store and Service
Whether you need new tires, or just a tire repair, Spitzer Kia Cleveland has the tools you need. If you get a flat, we can repair your current tire or replace your old one. We have our own tire store with a price match guarantee so you can feel completely confident with your purchase.
Kia Wheel Alignment Maintenance & Service
Never sacrifice precision and performance, when you can have both of those things in your vehicle from our Kia Service Center. We always emphasize that without a proper wheel alignment, your fuel economy and the life of your tires can suffer. Get your wheel alignment completed from our professionals by calling or making an appointment today.