Premium Kia Service, Auto Repair, Oil Change Service
Premium Kia Service, Auto Repair, Oil Change Service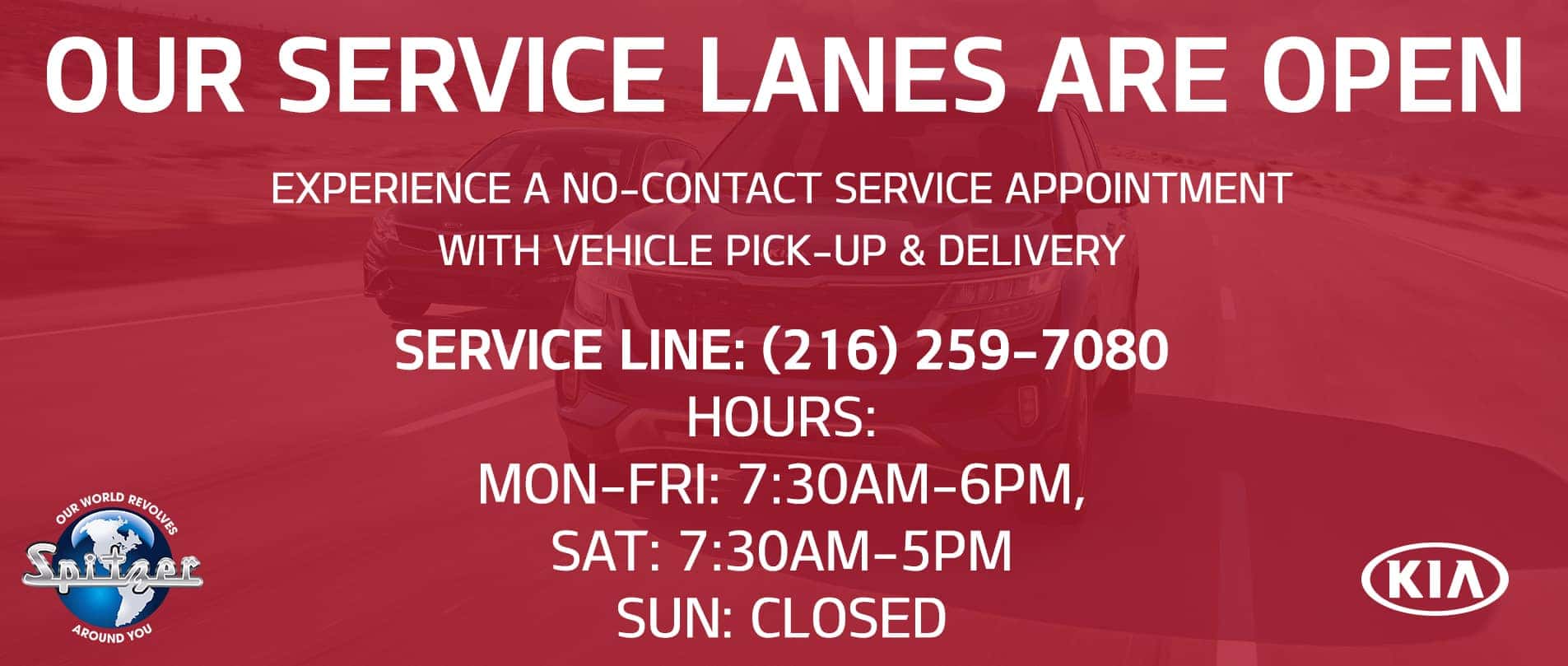 Why Opt for Kia Service at Spitzer Kia Cleveland?
While you may think that car dealerships in Cleveland, Ohio, charge more for standard Kia service, the opposite is true when it comes to Spitzer Kia. Our team seeks to find the best deal and provide thorough auto repairs, oil change services, and Kia service that exceeds your expectations. From monthly specials and discounts on Kia service to a redesigned, state-of-the-art Service Center at our Cleveland Kia dealership, you can count on the best customer care and vehicle care at Spitzer Kia.
You don't have to travel far for Kia scheduled maintenance, minor or major auto repair or even routine oil change service. Spitzer Kia, your preferred Kia dealership in Cleveland, OH, is proud to offer a fully-redesigned Service Center with comprehensive service options for your vehicle.
Kia service at Spitzer doesn't just stop at basic repairs. We have an expanded menu of Kia service options available and highly-skilled, certified technicians available to complete your vehicle's service with a smile. Check out our service options online that include tire rotations and tire service, as well as brake repairs, battery replacements, and wheel alignments. You can also count on our Kia dealership's service center to fully evaluate and inspect your vehicles each time you stop in for Kia service.
Additional service options include major or minor auto repairs resulting from a collision or overall wear and tear. Our team is ready to serve and we have a redesigned facility to do just that. Conveniently schedule Kia service, oil change service auto repair, and more online so you save time. With monthly specials and Kia service discounts, you can also get more bang for your buck at Spitzer Kia Cleveland.
---
Get the Kia Service, Maintenance You Need Now
We realize that you have choices when it comes to auto repair and Kia scheduled maintenance. However, before looking into local mechanics, know that the service center at our Kia dealership in Cleveland, OH, uses only Kia certified parts and features technicians who are certified and experienced.
Our goal is to keep you safe while on the road and routine maintenance and repairs allow us to do that. Not only does our Kia service team have the know-how to keep your Kia running at its optimal level, but we also make customer satisfaction a top priority. We know that our valued customers rely on us to get the job done right. We do that and more with premium Kia service and vehicle care on a daily basis.
While we care for your sedan, SUV, truck or minivan, you can relax in our service center waiting room that is equipped with Wi-Fi, coffee, and snacks, as well as comfortable seating. Our Kia dealership in Cleveland, OH, also offers shuttle service and loaner vehicles to add even more convenience to your Kia service experience.
See for yourself how our Kia service is second to none. Schedule your auto repair or oil change service online now and enjoy the convenience of our express service.
Get Directions To Spitzer Kia